Człowiek=natura,
wernisaż wystawy w Książnicy Pomorskiej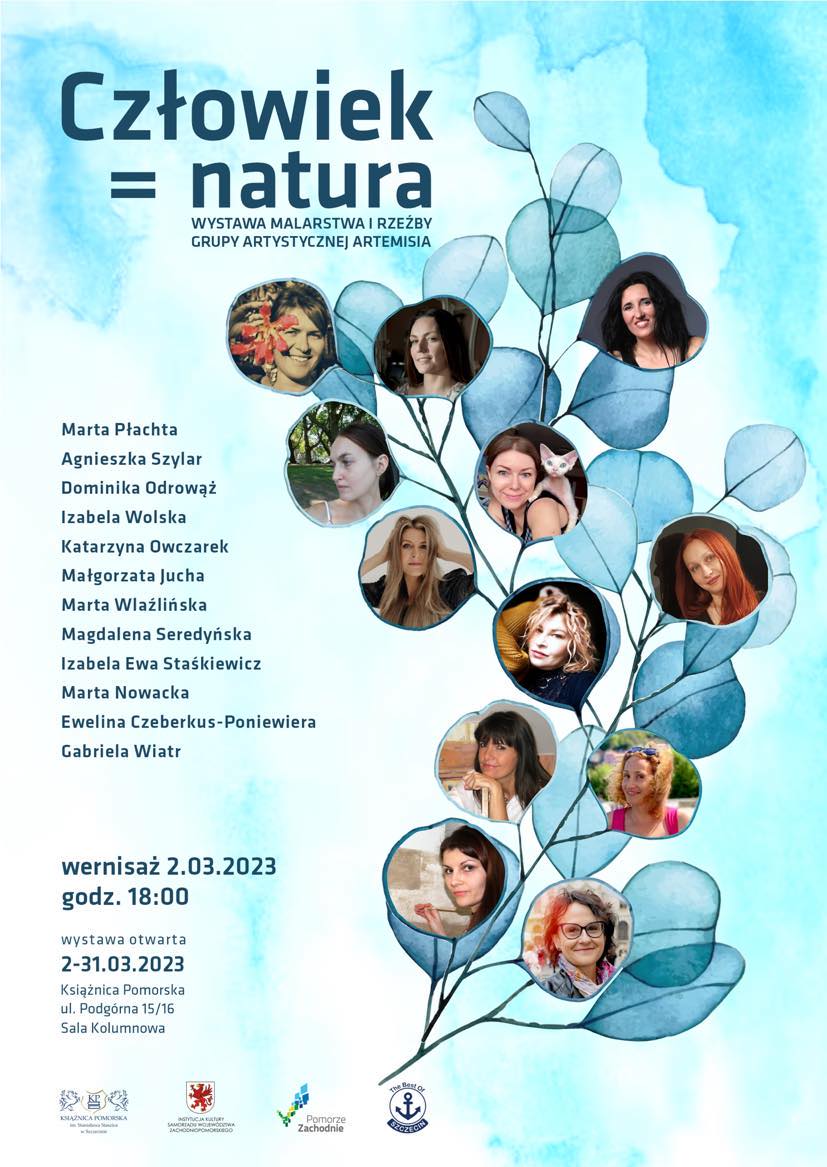 Wystawa zatytułowana "Człowiek=Natura", którą można będzie odwiedzać przez cały marzec w Książnica Pomorska w Szczecinie jest już trzecią ekspozycją, którą realizuję wspólnie z grupą artystyczną Artemisia. (Wernisaż 2 marca, godz. 18).
Tym razem eksplorujemy temat człowieka i natury. Ja na swój rzeźbiarski warsztat wzięłam ekosystemy, które mają osobowość prawną i tak jak ludzie, instytucje i korporacje mogą bronić swych praw, w tym tych podstawowych – prawa do życia i zdrowia przed sądem.
Będę prezentować cykl rzeźb "Osoba Rzeka". Jest to mój głos w sprawie Odry, w sprawie zeszłorocznego jej zanieczyszczenia. Dla wielu z nas, dla mnie także to były traumatyczne chwile. Urodziłam się w Szczecinie, mieście nadodrzańskim, Odra to część mojego dzieciństwa i mojego dorastania. Zareagowałam, tak, jak potrafię – rzeźbiąc Odrę. Pierwszy eksponat powstał zatem tuż po tych łamiących serce wydarzeniach.
Katalizatorem tego wielkiego bólu, rozgoryczenia, złości na bezkarność sprawców był ruch społeczny, który się wokół katastrofy zrodził.
Wtedy właśnie dowiedziałam się, że osobowość prawną mogą mieć nie tylko ludzie i korporacje, ale też przyroda i taką właśnie osobowość oraz wynikającą z niej ochronę może mieć Odra.
Wierzę w ten pomysł, bo mamy w świecie precedensy.
Osobowość prawną ma rzeka Whanganui z Nowej Zelandii, którą Maorysi zwą Te Awa Tupua i o której podmiotowość walczyli od 1870 roku. Od 2017 roku Whanagui nie jest przedmiotem własności państwowej, prawo teraz stanowi że rzeka należy do siebie samej. Z przedmiotu, którym nigdy nie była stała się podmiotem, którym była zawsze, o czym wiedzieli ludzie Maori.
Osobowość prawną ma także laguna Mar Menor w Hiszpanii i kanadyjska rzeka Muteshekau Shipu- Magpie.
Największe rzeki w Indiach – Ganga i Yamuna a także zasilające ją lodowce mają status prawny osoby małoletniej. Uregulowanie w 2018 roku podmiotowości ekosystemu Amazonii, w tym lasów i samej rzeki pozwala np. na kontrolę wylesiania.
Chwilę wcześniej Ekwador nadał konstytucyjne prawa rzece Vilcabamba.
Część z tych chronionych ekosystemów pokażę właśnie na wystawie "Człowiek=Natura" jako rzeźby. Wśród nich umieszczę Odrę, mając nadzieję, że nie jest to tylko działanie magiczne, że nasza piękna rzeka doczeka ochrony, na jaką zasługuje.
Maori mówią "Ko au te awa, ko te awa ko Au" – jestem rzeką, a rzeka jest mną.
Wszyscy wiemy, że potrzebujemy natury. Ale ona potrzebuje też nas.
Zachęcam do odwiedzenia strony
https://osobaodra.pl (fp: Odra – osoba prawna )
gdzie można dowiedzieć się więcej o tej inicjatywie i do podpisania petycji:
https://www.naszademokracja.pl/pet…/odra-jako-osoba-prawna
Odwiedź również zakładkę:
https://osobaodra.pl/prawo
Ze gromadzonych tam informacji korzystałam pisząc tę notatkę.
kliknij na zdjęcie by zobaczyć opis eksponatu i ekosystemu, do którego nawiązuje oraz galerię zdjęć
Zdjęcia z wernisażu autorstwa Malwiny Kasicy-Witkowskiej, Joanny Węgorskiej i @lesio_ka